You are here:
Home
> Computational Fluid Dynamics Workshop 2020
Computational Fluid Dynamics Workshop 2020
First session: 30 Jun 2020 - 3 July 2020 (tentative)
 School of Mechanical Engineering, UTM

Computational Fluid Dynamics (CFD) has been a very important research and design tool in thermo fluids engineering. Understanding the applicability, flexibility, and limitation of CFD is very important to produce useful results. This specially designed course for beginners in CFD that combines the study of a commercial software (ANSYS FLUENT) and an open source software (OpenFOAM) will enable the participants to pick the right tool to do a particular task. The robustness of ANSYS FLUENT as a well established commercial software and the modelling flexibility of OpenFOAM software will be discussed during the workshop to lead the participants towards the capabilities of both kinds of CFD tools. A walk-through demonstration will be done to introduce the participants with the pre-processing, processing, and post-processing tasks in CFD.
Level of course: Introductory
Who should attend:
1. Research students who need to analyse their experimental results with the support of CFD analysis will get an idea about validation process of CFD results.
2. Research students who begin to embark on a purely computational study will be exposed to CFD tool modification to implement new models.
3. Engineers who begin to implement CFD to model fluid flow processes for optimization purposes.
4. Engineers who plan to apply open source CFD toolkit to cut cost on large scale simulation.
Day 1:
Introduction to the finite volume method

Elements of a CFD solver: Computational grid, discretization schemes, linear equation solver, iterative techniques
Day 2:
Solving fluid and heat transfer problems in ANSYS FLUENT

Introduction to turbulence modeling (RANS models)
Day 3:
Verification and validation in CFD

Getting CFD results published in high-impact journals
Day 4:

Introduction to Linux and Vim (text editor)

Introducton to OpenFOAM: Code installation, directory structure, and solvers

Basic tutorials for OpenFOAM

Day 5:

Solver and boundary condition modifications in OpenFOAM

Turbulence model implementation in OpenFOAM

OpenFOAM utilities

CPD hours for UTM staff will be given

Note: Participants are required to bring their own laptop with ANSYS FLUENT installation to be used during the workshop. The organizer will not provide laptops or FLUENT software. For UTM staff/students, you're advised to contact CICT for university license. 
 Fees and Registration:
Registration Closed. We are no longer accepting registration for the 2017 CFD Workshop due to unavailability of seats.
| | | |
| --- | --- | --- |
|  Fees | Students | Professional |
| Early Bird* (RM) | 350 | 800 |
| Standard (RM) | 450 | 1100 |
Total seats available (per session): 25
PROMOTION PRICE FOR REGISTRATION BEFORE 15  May 2020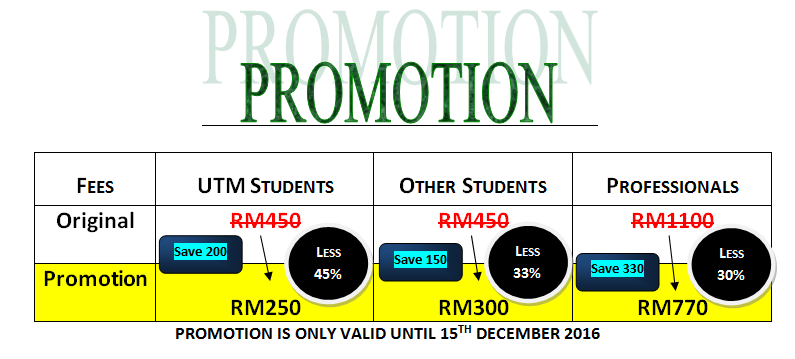 Seats are limited to 25 for each session
Mode of payment: Online transfer or ATM deposit
Name of Bank:CIMB Bank Berhad
Account Name:Bendahari UTM
Account Number:8006053536
Address of Bank:CIMB UTM Branch, Universiti Teknologi Malaysia,
Currency:Ringgit Malaysia (MYR)
Refund policy: No refund for withdrawal will be provided after 30 May 2020.
About the FLUENT instructor:
Dr. Khalid Saqr is specialized in computational fluid dynamics & turbulence modeling. He has published a text book, more than 40 articles in international refereed journals & contributed over 25 papers in international conferences & seminars. Dr. Saqr is a founding executive editor & current Editor-in-Chief of CFD Letters, a Scopus indexed international peer-reviewed journal for computational fluid dynamics (http://cfdl.issres.net). Throughout his career, Dr. Saqr has worked in diverse applications of CFD including:
Modeling of compact heat exchangers for thermoelectric applications

Simulation of supersonic propulsion engines depending on pulse detonation principle

Modeling of swirl-stabilized industrial combustion systems

Analysis of human intracranial/cerebral hemodynamics

Modeling building aerodynamics in urban contexts
Dr. Saqr is a founder & senior research scientist of Research Center for Computational Neurovascular Biomechanics (RCCNB), a national center of excellence funded by the Egyptian State Ministry of Scientific Research in April 2013 under the STDF-CSE scheme
About the OpenFOAM instructor:
Dr. Mohd Fairus Mohd Yasin completed his PhD from University of Cambridge, United Kingdom in 2014 and he graduated with a Bachelor of Science in Engineering from University of Wisconsin, Madison, United States in 2007. Currently a Senior Lecturer in Fakulti Kejuruteraan Mekanikal, UTM and actively involved in CFD research in the High Speed Reacting Flow (HiREF) research group. He is specialized in the reacting flow modelling using OpenFOAM and has published several papers in reputable journals and conferences. Dr. Fairus is also a reviewer for Applied Energy journal.
Cancellation policy
On rare occasion, the organizer may cancel or reschedule the workshop due to unforeseen occurances by issueing a written notice. Upon the cancellation or the reschedule, a refund which exclude the non-refundable cost of the workshop will be given.